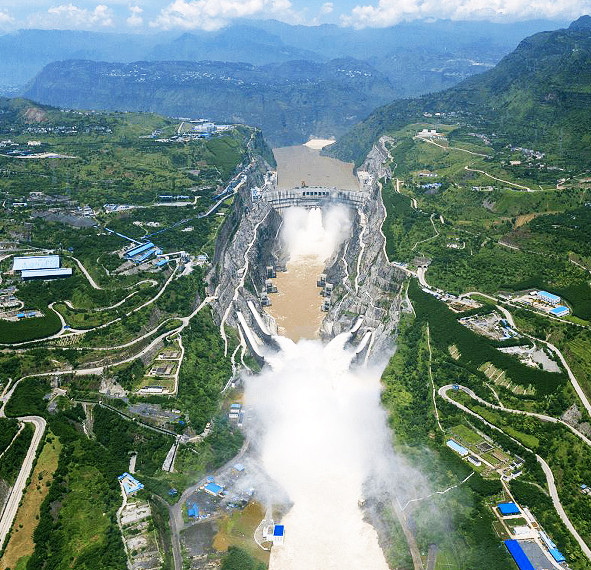 Xiluodu Hydropower Station
Xiluodu Hydropower Station, straddling Leibo county, Sichuan province, and Yongshan county, Yunnan province, is the third among the four cascade hydropower stations (Wudongde, Baihetan, Xiluodu and Xiangjiaba) in the lower reaches of Jinsha River. It boasts of comprehensive benefits such as power generation, flood control, sediment retaining, navigation improvement for the upper reaches, etc. Moreover, it is not only the largest hydropower station in operation in Jinsha River, but also a national key project in China's west-to-east power transmission program. In September 2016, Xiluodu Hydropower Station won the "FIDIC 2016 Engineering Project Excellence Award".
In April 2007, the construction of Xiluodu hydropower station was kicked off. The project is composed of main structures for water retaining, water releasing, water diversion and power generation, etc. This mega-project is famous for its high dam (285.5 m), high seismic resistance capacity (VIII degree) and high-speed water flow (close to 50 m/s), as well as large discharge (maximum discharge of about 50,000 m3/s), large underground powerhouse (roof-arch span of over 30 m) and large-scale hydro-turbine generating units (a single unit capacity of 770,000 kW).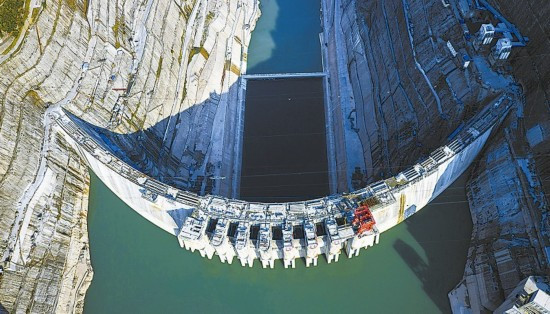 The double-curved arch dam
As the third highest in China, the dam of Xiluodu Hydropower Station is a concrete double-curved arch one, with the height of 285.5m and the concrete pouring volume of about 6.8 million m3. Equipped with nine giant hydro-turbines with a single unit capacity of 770,000 kW on both left and right banks, Xiluodu hydropower station boasts of a total installed capacity of 13.86 million KW and an average annual power generation of 57.12 billion kWh. Currently, it ranks the second largest hydropower station in operation in China and the third in the world.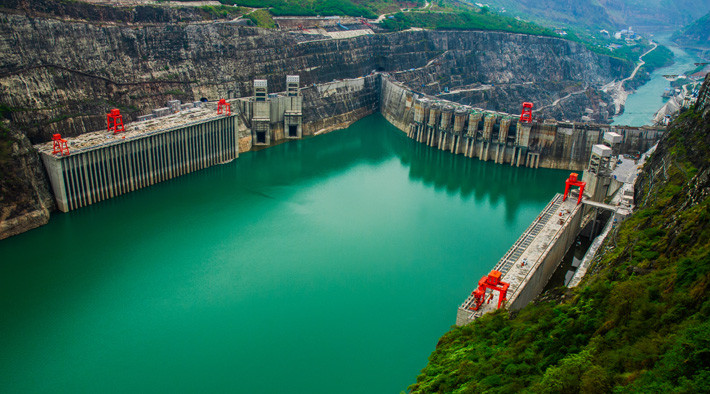 Xiluodu Reservoir
With the flood control capacity of 4.65 billion m3, the total storage capacity of Xiluodu Reservoir stands at 12.67 billion m3. Hence, it becomes a pivotal component of the Yangtze River flood control system and one of the main engineering measures to tackle the flooding problem in the Sichuan section of the Yangtze River, upgrading the flood control standard of Yibin, Luzhou, Chongqing and other cities along the river from once in 20 years to once in 100 years.
Xiluodu Hydropower Station is of epoch-making significance in realizing rational distribution of energy, optimizing power supply structure, improving ecological environment, stepping up economic development of the western region, especially the minority areas on both sides of Jinsha River in Sichuan and Yunnan, and boosting the sustainable social and economic development of the Yangtze River Basin.