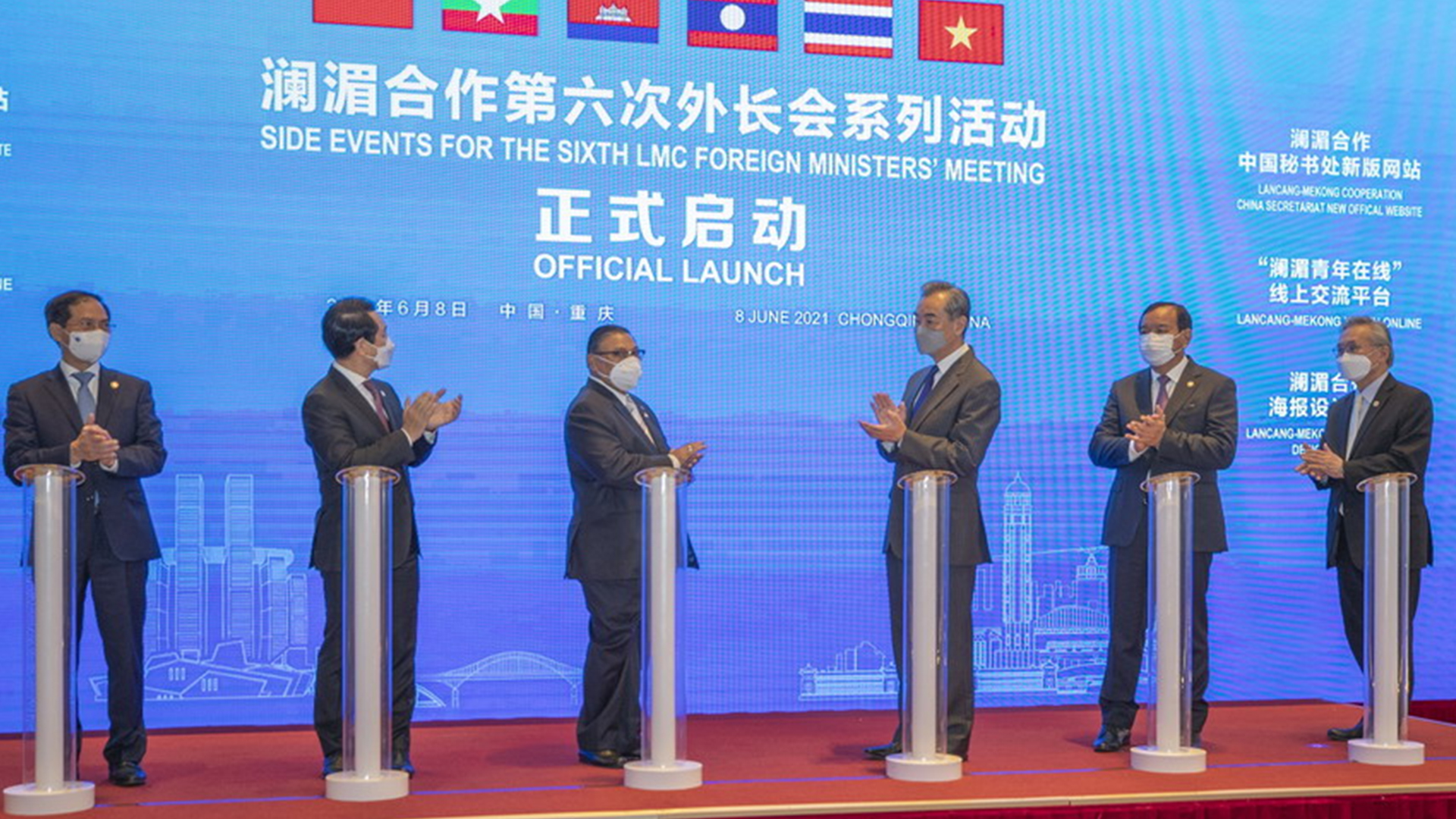 Chinese State Councilor and Foreign Minister Wang Yi on Tuesday called for cooperation with the five Mekong countries and pledged to share development opportunities with them at the 6th Lancang-Mekong Cooperation (LMC) Foreign Ministers' Meeting.
The LMC is a new-type sub-regional cooperation mechanism featuring extensive consultation, joint contribution and shared benefits between China, Cambodia, Laos, Myanmar, Thailand and Vietnam.
Suggesting all Mekong countries work together to tackle global challenges, Wang made six proposals.
First, he called on the countries to deepen cooperation on COVID-19. Pledging that China will continue offering vaccines and medical supplies to Mekong countries, Wang advised to list cooperation on public health as a priority for the future.
Second, Mekong countries should work jointly to promote recovery after the COVID-19 pandemic, noted Wang, urging all parties to step up synergy with each other and enhance cooperation on trade facilitation, connectivity, digital economy and technological innovation.
Third, the Chinese foreign minister also proposed to expand cooperation on water resources by strengthening exchanges on relevant information, flood control and disaster mitigation and relief.
According to Wang, China has helped build 23 water supply facilities for Mekong countries and undertaken security checks for 40 dams.
Based on the current achievement, Wang hopes all parties could conduct cooperation on biodiversity protection and take concrete actions to fight against illegal logging and illegal trade of wild animals.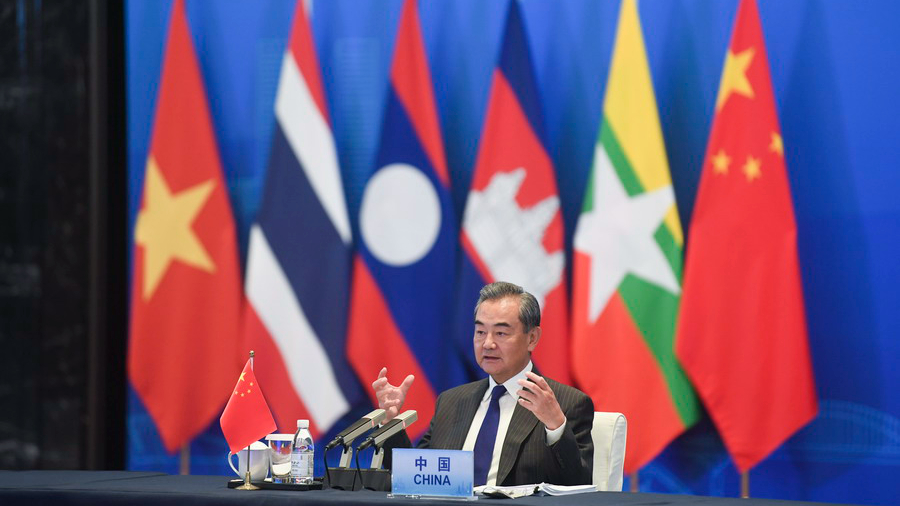 Chinese State Councilor and Foreign Minister Wang Yi presides over the 6th Lancang-Mekong Cooperation Foreign Ministers' Meeting in Chongqing, southwest China, June 8, 2021./Xinhua
Fourth, Wang stressed the importance of local pragmatic cooperation among all parties. He encouraged governments of the six countries to make full play of their advantages and enhance cooperation on border trade, cross-border e-commerce and economic zones in the border areas.
More than 10 provinces and autonomous regions of China have put forward the intention, noted Wang, adding that he expected more local governments within the five countries to participate.
Fifth, the Chinese foreign minister vowed to push forward amity between the people. Reiterating that China is willing to continue sharing its experience in poverty alleviation with others, Wang said that the country will facilitate capacity-building programs for 100 grassroots officials in Mekong countries.
He also called for enhanced cooperation on human resources, cultural tourism, media, sports and aspects related to women and children.
Sixth, the cooperation mechanism should be improved, said Wang.
The six countries are working on the draft of the Five-Year Plan of Action of the Lancang-Mekong Cooperation (2023-2027). Wang hopes all parties could accelerate the process and reach consensuses on areas such as connectivity, capacity cooperation and cross-border economic cooperation.
China is ready to support Mekong countries in more cooperative programs through special funds, said Wang, adding that the country is willing to enhance management in this regard with all parties to raise the efficiency and quality of the use of funds.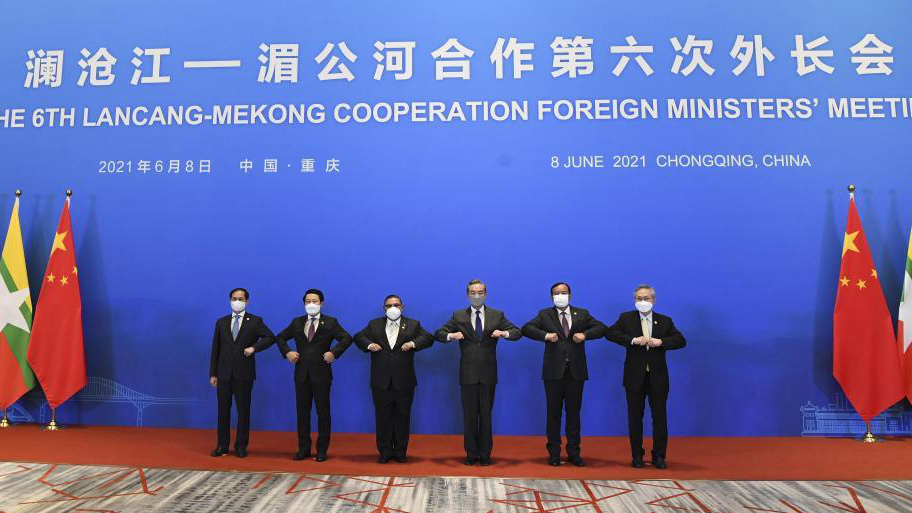 Foreign ministers of six countries greet each other at the 6th Lancang-Mekong Cooperation Foreign Ministers' Meeting in Chongqing, southwest China, June 8, 2021./Xinhua
The six countries also signed two joint statements on sustainable development cooperation and cooperation on traditional medicines, respectively.
In the statement on sustainable development cooperation, all parties agreed to deepen good-neighborliness and pragmatic cooperation, contribute collective efforts to the socio-economic development of the LMC countries, enhance the well-being of their people and narrow the development gap among countries.
They also support ASEAN Community building as well as the advancement of South-South cooperation and enhancement of the implementation of the UN 2030 Agenda for Sustainable Development, according to the statement.
The ministers also reaffirmed the principles of consensus, equality, mutual consultation and coordination, voluntarism, common contribution and shared benefits, and respect for the United Nation Charter, ASEAN Charter and international law, as well as in accordance with domestic laws, and regulations and procedures of each member country.
Regarding cooperation on traditional medicines, the ministers recalled the leaders' consensus on strengthening public health cooperation in the Third LMC Leaders' Meeting on August 24, 2020, and reiterated support for the deepening of cooperation on traditional medicine to tackle diseases such as COVID-19, influenza, malaria, dengue fever and others that pose a threat to people's lives.
Source: CGTN